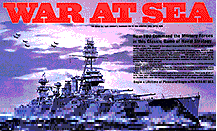 BPA War At Sea PBeM Tournament
Fourth Round Matchups (completed on February 10, 2000)
Final Round Match (completed on February 22, 2000)

Vince Meconi is the Champion of the BPA War at Sea PBeM Tournament.


Bruce Monnin is the Gamemaster for the BPA War at Sea PBeM Tournament.
Tournament Status Update (as of January 10, 2000): The final four field is now set for the BPA War At Sea PBeM tournament. In the first semifinal, Vince Meconi takes on Jonathon Lockwood. In the second semifinal, Nick Markevich takes on Bruce Monnin. If all continues to go as expected, we should have a champion in time for the 2000 World Boardgaming Championships and should be able to start another tournament in the beginning of September or October 2000.

Tournament Final Update (as of February 10, 2000): The final game in the War At Sea BPA PBeM tournament is about ready to begin with Bruce Monnin taking on Vince Meconi for the wood. For those of you on ConsimWorld.com, the players will try to leave updates in the War At Sea discussion area as the game progresses.
Tournament Final Update (as of February 22, 2000): This is to announce we have a champion for the first Boardgame Player's Association PBeM War At Sea championship, and that Don needs to get the plaque ready to go. That player is Vince Meconi, who severely trounced your beloved GM in the final match. I wish to thank all of you for participating. It has been fun for me, not only as a player but also as GM.
Also, I wish to start making plans for the 2nd War At Sea tournament. I plan on starting this event in September 2000, in order to do a little recruiting at the WBC this year. The question then becomes which format to use. I am considering two options. Option 1 is to stay the same as this tournament. Option 2 is to run a 5 or 6 round Swiss event (possibly with a championship match at the end). It would be run similar to the WBC tournament.
The advantage I see of the single elimination event is that it moves along faster, and the winners can start the next game as soon as their opponent is ready. Although I would prefer faster play, the reality is that it will take approximately 3-4 months per round in a Swiss competition. The advantages of the Swiss competition is that you are not eliminated by one game of poor die rolls and that you can keep playing even if you are out of contention. Let me know if you have any preferences. I will be actively recruiting participants around July or August.
Bruce Monnin, Tournament Gamemaster

King George V



To join the WAS AREA PBEM Ladder, please contact Bruce Monnin.
For more information about A.R.E.A., contact Glenn Petroski.
Complete A.R.E.A. ratings for War at Sea
What does that A.R.E.A. rating mean?
Eric's PBEM War at Sea Game
WAS Rules Clarifications
War at Sea Game Discussion
Several PBEM War at Sea Games
War at Sea Information at Web Grognards
The Victory in the Pacific AREA PBEM Ladder

In cooperation with the Boardgame Players Association

War at Sea® is a registered trademark of The Avalon Hill Game Company.
This page was last updated on June 9, 2000 by Nick Markevich.