2000 World Boardgaming Championships
War at Sea Tournament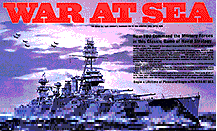 Vince Meconi is the Gamemaster for the WBC War at Sea Tournament.


World Boardgaming Championships 2000
War at Sea WBC Tournament
Gamemaster: Vince Meconi
E-mail: VMeconi@aol.com
Mail: P. O. Box 6346
Wilmington, DE 19804-0946
Preliminary Seedings For 2000 World Boardgaming Championships (as of October 5, 1999)
| | | |
| --- | --- | --- |
| Rank | Name | AREA Rating |
| 1 | Ray Freeman | 1910 (Defending Champion) |
| 2 | Mike Kaye | 1915 |
| 3 | Phil Rennert | 1815 |
| 4 | Steve Packwood | 1722 |
| 5 | Tom Scarborough | 1708 |
| 6 | Bruce Monnin | 1704 |
| 7 | Andy Maly | 1687 |
| 8 | Vince Meconi | 1682 |
| 9 | Ron Artigues | 1680 |
| 10 | Rob Mull | 1676 |
| 11 | Bryan Eshleman | 1663 |
| 12 | Pat Richardson | 1659 |
| 13 | Andy Gardner | 1649 |
| 14 | Tim Hitchings | 1644 |
| 15 | John Pack | 1626 |
| 16 | Bruce Reiff | 1625 |
| 17 | Johnny Carpenter | 1623 |
| 18 | Wes Letzin | 1618-i |
| 19 | Bob Hamel | 1614 |
| 20 tie | Glenn Petroski | 1612 |
| 20 tie | Matt Romaniecki | 1612 |
| 22 | Greg Berry | 1611 |
| 23 | Sharee Pack | 1608 |
| 24 tie | Jonathan Lockwood | 1605 |
| 24 tie | Alan Applebaum | 1605 |
| 26 | Johnny Hasay | 1604 |
| 27 tie | Hank Burkhalter | 1601 |
| 27 tie | Scott Sirianna | 1601-i |
| 29 | Jim Cavallari | 1596 |
| 30 | Joe Beard | 1588-i |
| 31 | Frank Cunliffe | 1584-i |
| 32 | Mark Smith | 1564 |
| 33 | Jim Eliason | 1562-i |
| 34 | Phil Van Wiltenburg | 1560 |
| 35 | Thomas Walsh | 1557 |
| 36 | Nick Markevich | 1552 |
| 37 | Paul Bolduc | 1548 |
| 38 | Michael Peck | 1548-i |
| 39 | Tony Guido I | 1546 |
| 40 | Sean McKenzie | 1543 |
| | | i = Inactive AREA status. |
Italicized players have not previously entered an Avaloncon/WBC War At Sea event.
The post-convention wrap-up has customarily included AREA ratings which establish the seedings for next year's tournament. In previous years, it was likely that those rankings wouldn't vary greatly in the 11-month interval until the next convention. However, that was before the days of year-round PBEM competition. Defending champ Ray Freeman will automatically be next year's #1 seed, but other rankings are likely to change several times. In the meantime, you can look up War At Sea AREA ratings at <www.uwm.edu/people/bruno/AREA>.
The 1999 WBC final game-by-game results can be found at <htttp://www.jps.net/nmrkvch/was/games99.html>.
Guide to War At Sea Available
The indefatigable Bruce Monnin has just published the The Boardgamer's Unofficial Guide to War At Sea. A wealth of information, available from Bruce for $7 at (e-mail) monninb@bright.net or (postal) 177 South Lincoln Street, Minster, OH 45865-1240.
Strategy Cheat Sheet
John Pack prepared a single sheet summary of the WAS rules and hints on strategy and tactics. It is reproduced at WaS Strategy Tips for your enjoyment.

2000 Tournament Format
Rules. Second Edition rules will be used, supplemented by the attached clarifications.
Requirements. Please bring your own copy of the game. If there are not enough copies of the game available, those bringing their own copy will have priority. Badges will be checked.
Schedule. The first round will commence promptly after the GM's instructions, which will begin at 9:00 AM on Thursday morning. There will be 7 rounds. The first 5 rounds will be preliminary qualifying rounds and the last 2 will be single elimination rounds matching the top 4 finishers. Subsequent preliminary rounds will begin at 11:15 AM, 1:15 PM, 3:15 PM and 5:15 PM on Thursday. Players may play any one round, any combination of rounds, or every round. They may drop out and reenter for any round, as long as they are present for the start of that round.
To keep the tournament flowing smoothly, players are asked to please notify the Gamemaster if they know they will not be playing in the next round.
The semifinal games will be held after the preliminaries on Thursday night, and the finals will be held at the convenience of the two finalists, starting no later than 8:00 PM Saturday night.
Format, Preliminary Rounds. The preliminary portion of the tournament will be conducted via the Swiss System. Pairings for each round will be determined by a seeding system. For the first round, defending champion Mike Kaye, should he enter, will automatically receive the #1 seed. All other players will be seeded by their AREA ratings, as of June __, 2000. No distinction will be made between active and inactive ratings. Any player without an AREA rating will be assigned a rating of 1500. The highest seeded player will be paired against the lowest, the second highest against the second lowest, etc.
In subsequent rounds, each player will be matched against a player with an identical or similar Victory Point (VP) score (see Scoring, below). For example, if after Round 2 there are 8 players tied with 20 VPs, these players will again be seeded using AREA ratings, and the highest seeded of these 8 players will be matched up with the lowest seeded, the 2nd highest seeded with the 2nd lowest seeded, etc. If there are only 7 players with the same VP total, then the next highest scoring player will be added to that group and the pairings will be made. Pairings then continue with the next highest scoring set of players, etc. until all players are matched. The only exception to the seedings will be that two players will never play each other twice in the 5 preliminary rounds.
All players will have their own cards detailing their progress in the tournament. These cards will have a magnetic backing so that they can be stuck to a sheet metal standings board. After each round, players' cards will be adjusted to reflect their current positions in the standings and to make clear who they may be paired against in the next round.
Scoring. Each game in the preliminary rounds is worth 10 Victory Points (VPs). If the game is decided by 2 or more POC, the winner gets all 10 VP and the loser gets 0 VP. If the game is won by 1 POC, the winner gets 8 VP and the loser 2 VP. Each player gets 5 VP for a draw. In every case, VPs are awarded after any POC-incentive is applied. The GM reserves the right to adjudicate any game not completed 15 minutes before the next round begins.
Byes. If there is an odd number of players available for a round, one player will receive a bye, and get credit for a win (10 VP) that round. Byes will be determined as follows. In the first round, the lowest seeded non-preregistered player will receive the bye. In subsequent rounds, the player with the lowest VP score up to that point will receive the bye. If a number of players are tied for the lowest VP total, the lowest seeded player will receive the bye. No player will receive more than one bye during the tournament. (If any of you are not competing this year, please feel free to stop by during a break in your other action to help us avoid byes.)
Sides. Players simultaneously reveal which side they wish to play, by using the Axis and Allied control flags provided in the game. If opposite sides are chosen, play proceeds. If both want the same side, the players bid for the right to play that side. Players determine who has the first option via a die roll. The player winning the roll may either accept the non-preferred side or bid a POC-incentive to play the preferred side. The bid may be any integer, including zero. If the first player bids to play the preferred side, the second player may either accept the POC-incentive to play the non-preferred side or bid a higher POC amount for the preferred side. The option passes back and forth in this fashion until one player accepts the non-preferred side and the POC-incentive. The incentive is applied to the final POC score of the game.
Qualification for Final 4. The qualifiers for the semifinals will be the players with the top four VP totals from the preliminaries. Ties will be broken based on strength of schedule (# of VPs earned by one's opponents divided by the # of games played by one's opponents); the second tiebreaker will be highest AREA rating.
Format, Semifinals and Final. The semifinals and final will be single elimination; the winners of the two semifinal games will play each other in the final for the championship. Pairings for the semifinals will be determined by performance in the preliminaries; the #1 ranked player will play the #4 player and the #2 player will play the #3 player, unless such pairings would result in a rematch.
Bidding for sides in the semifinals and the final will be handled as in the preliminaries. If any of these games end in a tie, the following tiebreakers will be used, in this order: 1) disregard any bid, 2) highest total of VPs in the preliminary rounds, and 3) highest AREA rating.
Die Rolling. It is customary (though not required) to roll all dice in a box lid; dice landing outside the box are rerolled. Other methods such as dice towers are fine as long as they are mutually agreed upon.
Spectators. Spectators are welcome to observe the matches in progress. However, spectators are not permitted to participate in any way. Spectators may not point out the legality or illegality of any move, nor be consulted on rules clarifications. Such inquiries should go to the GM or an assistant GM.
Conduct. Abusive behavior and language are not permitted. However, it wouldn't be War At Sea without a lot of whining about poor die rolls.
Results. The results of all games will be given to Glenn Petroski so they can be recorded in the AREA rating system.

Past Tournament Top Finishers
| | | | | |
| --- | --- | --- | --- | --- |
| Year | Champion | 2nd Place | 3rd Place | 4th Place |
| 1991 | Bruce Monnin | Chuck Stapp | Tim Hitchings | Steve Packwood |
| 1992 | Tom Scarborough | Bruce Monnin | Ken Shunk | Chuck Stapp |
| 1993 | Bruce Monnin | Tom Scarborough | Tim Hitchings | Chuck Stapp |
| 1994 | Phil Rennert | John Pack | Ray Freeman | Mike Knautz |
| 1995 | Ray Freeman | Tim Hitchings | Jonathan Lockwood | Phil Rennert |
| 1996 | Steve Packwood | Rob Mull | Phil Rennert | Gary Moody |
| 1997 | Tim Hitchings | Patrick Richardson | Bryan Eshleman | Scott Sirianna |
| 1998 | Mike Kaye | Matt Romaniecki | Rob Mull | Tom Scarborough |
| 1999 | Ray Freeman | Mike Kaye | Phil Rennert | John Pack |
The Boardgamer
A byproduct of the sale of Avalon Hill to Hasbro is the demise of The General. In lieu of The General, however, you may want to try Bruce Monnin's quarterly, The Boardgamer. In its 4th year, it's a 32 (or more) page publication that focuses exclusively on boardgames, mostly Avalon Hill.
The Boardgamer represents improvement in two significant areas over what The General had become in its waning years. First, the issues come out when scheduled, and second, there are actually numerous articles on strategy for many different games, not just the most recent releases. Plus, AREA ratings and Avaloncon/WBC coverage. Available from Bruce at 177 South Lincoln Street, Minster, OH 45865-1240 for $14/year.

King George V


Other Interesting Web Sites
A site with AREA ratings for every player in every game is maintained by Bruno Wolff III at:
<www.uwm.edu/people/bruno/AREA>.
The Boardgame Players Association, which has all the latest information about the World Boardgaming Championships, is at: <http://www.boardgamers.org>.
Another good site is ConsimWorld, "the official news, information, and talk site covering the historical boardgaming industry," which includes discussions on a wide variety of gaming topics, including Avalon Hill, product releases from a number of companies, and specific games like War At Sea. The URL is: <www.consimworld.com>.
Finally, Web-Grognards advertises itself as "the site for wargames on the web." Check them out at: <www.grognard.com>.

Bismarck


To join the WAS AREA PBEM Ladder, please contact Bruce Monnin.
For more information about A.R.E.A., contact Glenn Petroski.
Complete A.R.E.A. ratings for War at Sea
What does that A.R.E.A. rating mean?
Eric's PBEM War at Sea Game
WAS Rules Clarifications
War at Sea Game Discussion
Several PBEM War at Sea Games
War at Sea Information at Web Grognards
John's Victory in the Pacific AREA PBEM Ladder

The Boardgame Players Association
For more information about the War at Sea Tournament at the World Boardgaming Championships
(sponsored by the BPA in Hunts Valley/Baltimore, Maryland from August 1 to August 5, 2000),
please send an email to Vince Meconi and provide him with your mailing address to receive
a copy of the World Boardgaming Championships War at Sea Tournament Newsletter.

War at Sea® is a registered trademark of The Avalon Hill Game Company.
This page was last updated on December 28, 1999 by Nick Markevich.